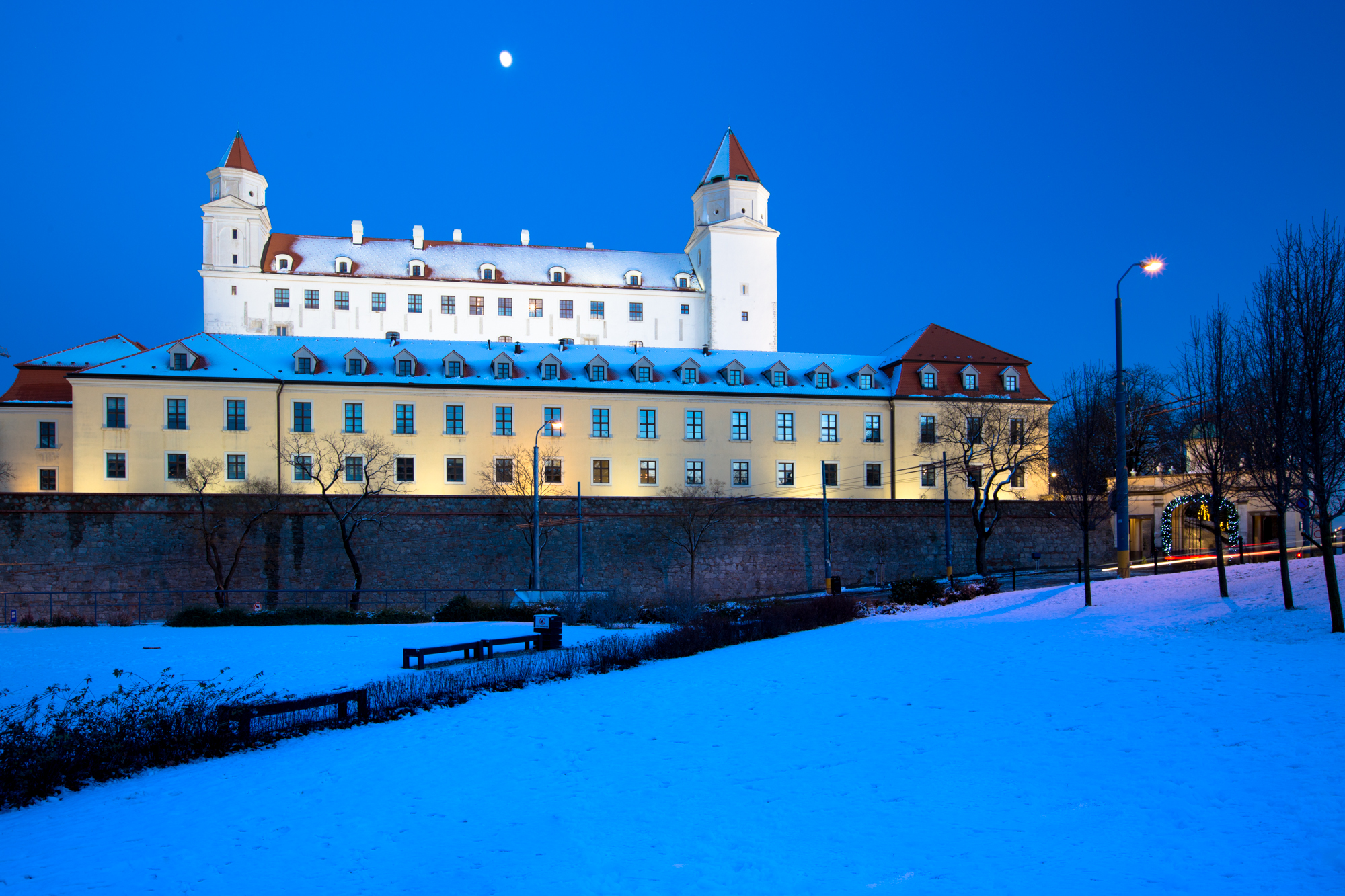 Slovakia wasn't really on our mind as we were planning our drive through the countries of the Czech Republic, Hungary and Poland. But the ring to the sound of the capital, Bratislava, had always fascinated us. And of course, all through our years growing up, we had known of only Czechoslovakia, which since then had split into two countries in a bloodshed-free Velvet Revolution.
So we decided to spend 42 snowy hours in Bratislava, coinciding with Anika's birthday. Driving through picturesque Hungarian towns and vast rolling meadows, we reached Bratislava by late afternoon. We crossed over at the magnificent bridge over the Danube, in Esztergom. A deserted pre-EU border crossing greeted us in the weak winter sun, and it started snowing just as we entered Slovakia.
Right away we headed towards the castle. With the snowfall at a pause, we quickly made it round the grounds in the bitter cold evening. It was a little rushed but I wanted to get a photograph of the Novi Most, or the new bridge, with its unique UFO restaurant along with the Danube and the castle. A short drive later, we managed to squeeze that otherworldly view, before heading back to our hotel near the city center.
The next morning, we took a stroll through the really picturesque and cozy old town, all decked up for it's Christmas Market. It snowed on and off, adding to the mood and the festivity. After the morning stroll, we drove across the Novi Most and had a fabulous lunch at the UFO Restaurant, celebrating Anika's birthday. The whole restaurant shook every time a heavy bus or truck crossed the bridge, adding to the palpitations of being suspended so high. A viewing of the entire city and surroundings from the terrace of the restaurant was included in the reservation, and was completely worth it.
Since their Velvet Revolution and Velvet Divorce in 1989, bars in Bratislava (and Slovakia, in general) have poked fun at their communist past, specifically building Soviet themed bars and decorating them with communist symbols. It has been their way of shrugging off their communist past, and welcoming the present. KGB is one of the more famous bars celebrating this theme, and apparently stands for Krčma Gurmánov Bratislavy, or Gourmet Pub of Bratislava. Seriously?
We decided to spend the evening hitting the KGB, getting some cakes and coffee and ending things up with a delicious Slovakian meal at a local restaurant. The snow had returned, and by the time we were wrapping up our dinner, it was snowing pretty hard. The density of people on the alleys and roads started thinning out as the snowfall picked up pace, giving us complete isolated access to the old town. A picture-perfect medieval postcard end to our 42 hours in Bratislava.